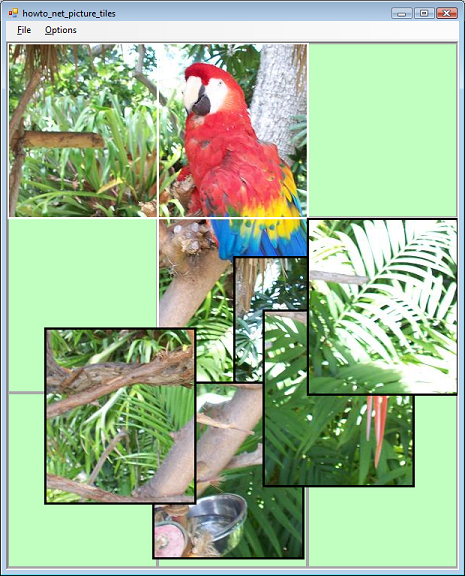 This example is a game sort of like a jigsaw puzzle. You load a picture, which is broken into tiles. You need to put the tiles in their proper positions to rebuild the image.
The program draws a grid on the background showing where the tiles belong. It outlines unpositioned tiles in black. Once you place a tile in its correct position, it is locked in that position, moved to the back, and outlined in white.
The program is simpler than you might imagine. It uses a Piece class to represent the current and "home" location of each piece. The program keeps the pieces in a List(Of Piece) named Pieces.
To draw the board, the program draws the background grid and then just loops through the pieces drawing them.
Unfortunately drawing images seems to be relatively slow so the program didn't redraw fast enough when the user was moving a piece and there were a large number of pieces. Each time the mouse moved, the program needed to redraw every piece and it was taking too long.
To avoid this problem, the new design uses a background image. When you start moving a piece, the program makes an image of the background without the piece that you are moving. Then instead of redrawing every piece, it only needs to redisplay this background and then draw the piece you are moving in its current position.
Even that causes some delay building the background image when you first click on a piece and when you drop the piece. To fix that problem, the program makes an initial background image that contains all of the pieces. When you click on a piece, the program fixes the background by redrawing the pieces that overlap that piece's area.
That may seem difficult but it's actually pretty simple. The code just calls SetClip to set the Graphics object's clipping region and then redraws everything. SetClip only allows drawing within the region to appear. The code still "draws" everything but the graphics system can clip off parts that lie outside of the clipping region much faster than it can actually redraw the whole background image.
The following code shows the MakeBackground subroutine that updates the background image in the Rectangle rect.