| | |
| --- | --- |
| Title | Use VBA code to make a pie chart in Excel |
| Description | This example shows how to use VBA code to make a pie chart in Excel. |
| Keywords | Excel, VBA, pie chart, Microsoft Office |
| Categories | Office, Graphics |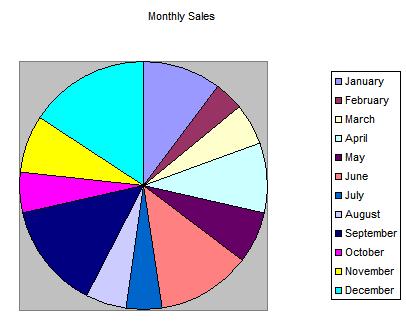 Subroutine MakePieChart builds a pie chart. This example builds a pie chart showing sales per month. It takes as parameters:
A title to put on the chart.
A title for the categories to graph (in this example, Month).
An array of category values (January, February, and so forth).
The title for the values (in this example, Sales).
An array of values (the sales per month).
The subroutine first created a new worksheet and names it after the title parameter. It makes column headers in cells A1 and B1, and then copies the categories and values into columns A and B.
The code then builds the chart. It sets the chart's type, data source, and details such as the title.
Public Sub MakePieChart(ByVal title As String, ByVal _
    category_title As String, category_values() As String, _
    ByVal value_title As String, values() As Single)
Dim work_book As Workbook
Dim last_sheet As Worksheet
Dim new_sheet As Worksheet
Dim r As Integer
Dim min_r As Integer
Dim new_chart As Chart

    ' Make a new worksheet.
    Set work_book = Application.ActiveWorkbook
    Set last_sheet = _
        work_book.Sheets(work_book.Sheets.Count)
    Set new_sheet = work_book.Sheets.Add(after:=last_sheet)
    new_sheet.Name = title

    ' Make the column headers.
    new_sheet.Cells(1, 1) = category_title
    new_sheet.Cells(1, 2) = value_title

    With new_sheet.Range("A1:B1")
        .HorizontalAlignment = xlCenter ' Centered.
        With .Font
            .FontStyle = "Bold"         ' Bold.
            .Size = .Size + 2           ' Bigger.
            .ColorIndex = 3             ' Red.
        End With
    End With

    ' Write the data.
    min_r = 2 - LBound(category_values)
    For r = LBound(category_values) To _
        UBound(category_values)
        new_sheet.Cells(r + min_r, 1) = category_values(r)
    Next r

    min_r = 2 - LBound(values)
    For r = LBound(values) To UBound(values)
        new_sheet.Cells(r + min_r, 2) = values(r)
    Next r

    ' Make the chart.
    Set new_chart = Charts.Add()
    ActiveChart.ChartType = xlPie
    ActiveChart.SetSourceData _
        Source:=new_sheet.Range("A1:B" & UBound(values) + _
            min_r), _
        PlotBy:=xlColumns
    ActiveChart.Location Where:=xlLocationAsObject, _
        Name:=title
    With ActiveChart
        .HasTitle = True
        .ChartTitle.Characters.Text = title
    End With

    ' Move the chart.
    new_sheet.Shapes(1).IncrementLeft -80
    new_sheet.Shapes(1).IncrementTop -140
End Sub